Lodi Appellation Chardonnay
---
Overview

Variety: Chardonnay

Rootstock:Freedom

Planted: 1988

Tonnage: Fifty tons

Asking Price: $650 per ton, plus shipping

These Chardonnay winegrapes are grown eighty miles east of the San Francisco Bay in a vineyard bordering the Mokelumne River. The climate is sunny and warm during the day, with cool night temperatures that dip into the fifties. The soil, rich Hanford sandy loam, is deep and well draining. The warm days and cool nights, coupled with the proximity of the nearby river, result in the production of winegrapes that are of the highest quality. Strong, healthy vines produce ripe, lucious fruit that is fragrant and bursting with varietal character.

The twelve acre vineayrd was planted in 1988. Out of the total production for the 2000 harvest, 50 tons are currently available for purchase. The field is presently bearing about 7 and 1/2 tons per acre and the crop should mature around the first week of September.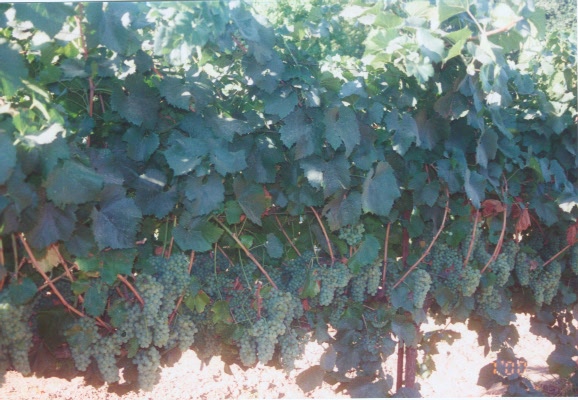 | | |
| --- | --- |
| Sugar levels as of... | Brix |
| August 8 | 19.5 |
| August 14 | 20.5 |
| August 22 | 21.0 |
The vines are cordon pruned with a five wire vertical trellising system and are irrigated by drip irrigation. Water is applied sparingly, with each vine receiving only 24 gallons per week. Rows run east and west. Leaf removal is practiced on the north side of the rows. This approach allows the fruit to be fully exposed to daylight while eliminating overly vegetative characters in the wine.

These grapes were produced in an environmentally responsible fashion, utilizing a "soft pesticide" approach. To date, the only insecticide applied has been Omite. The application date was July 20, 2000. The only other chemicals used during the 2000 growing season have been for mildew and rot control. Pesticide Use Reports are available upon request.
Wholesale price to wineries
$650 per ton for mature harvest (22.5 to 24.5 degrees brix).

Shipping not included.
The growers are presently looking for a reputable winery in the United States or Canada to pick up the balance of the crop. Any buyer interested in should contact Tom Hoffman by telephone at (209) 369-8578, or email him at thoffman@lodinet.com.
---