a Bio-Diversity Products web site
Nest Boxes for
Common Barn Owls
These are among the most beneficial birds a farmer can attract. A family of barn owls is very tolerant of humans, yet during a single nesting season will consume as many as three thousand rodents! Multiple nesting boxes around your agricultural operation will not only reduce your rodent population, but your pesticide expense as well.

Bio-Diversity's proven design has become the standard for owl boxes in viticultural areas in California. The four models available are all made from ½ inch CDX plywood. All have a clean-out doors and a 5½ inch entrance for the birds. All but the Basic Nest Box are weatherproofed with wood protector.

Like all our products, these nest boxes can be shipped to your door by UPS.

---
The Freestanding Nest Box for Barn Owls is our largest nest box (35 lbs.). A removable top allows this nest box to be easily attached to a post before it is installed in a field. It is designed with maximum of space to induce the female to lay more eggs. It comes with an optional sun baffle (shown here). An interior partition separates the entrance from the nesting quarters. A one inch dowel provides for interior perching and roosting, and as a means to allow the young to get outside the box and exercise in perparation for their first flight. An additional perch on the inside induces adults to use the box as a roost during the off-season when nesting is not taking place. The front measures 24 x 24 inches and it is 16 inches deep.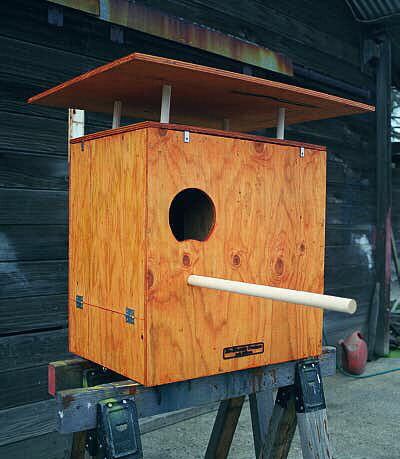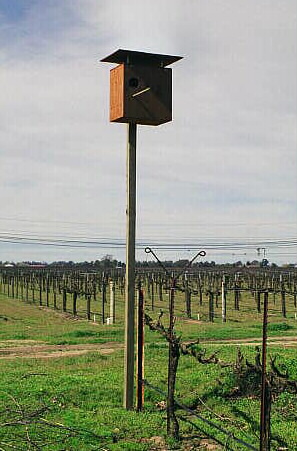 Price.......................................$79 each.
Sun shade .................................. $8 each

---
The Tree Nest Box for Barn Owls is designed to be installed in a tree. It is a vertical arrangement, with the door above the nesting area. An interior perch below the door assists the young as they scramble out into the world.

A mounting board is included with the box. With the board bolted horizontally across the back, as shown below, the box may be lashed to a tree trunk. With the board bolted vertically to the box, the nest box can be easily attached to a tree with lag screws or bolted to a pole to be installed out in the open.

Ventillation and drainage are considered in the design. The box measures 24 inches high by 16 inches wide and 16 inches deep. The shipping weight is 27 pounds.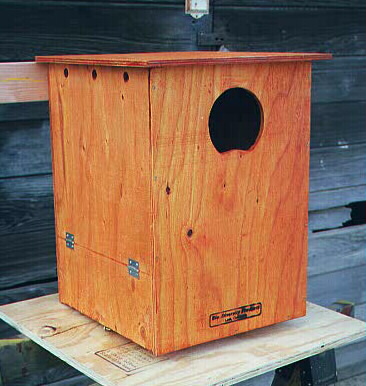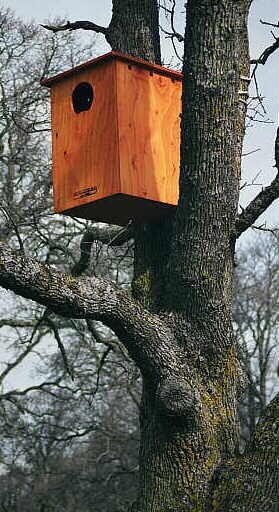 Price ......................................$66 each.

---
The Horizontal Nest Box for Barn Owls is our most versatile design. In its simplest form (shown on left) it can be installed on either the inside or outside wall of a building. Just as easily, it may be placed in the rafters of a barn, or high inside a silo. It is 16 inches tall, 16 inches deep and 23 inches long. An interior partition separates the entrance from the nesting quarters. The nesting area is 16 by 16 inches. Mounting boards are not included.
With its optional features, the Horizontal Nest Box can be installed on a pole with all the benefits of our Free Standing Nest Box. (as seen on right). Top and back sun shields provide relief from hot spring afternoons and the exterior perch permits the young to emerge from the nest to exercise. These features can be added as necessary.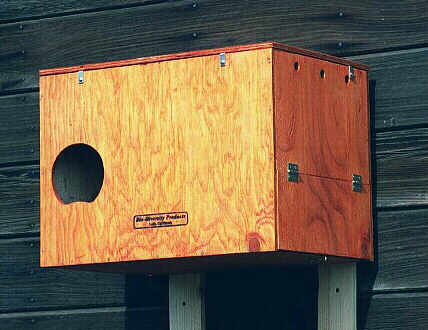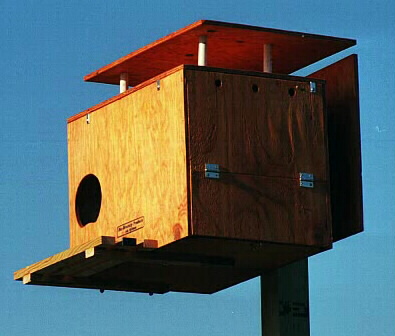 Price............................................. $71 each
Prices for optional features.
Exterior Perch...............................$10 each
Top Sun Shield ............................. $8 each
Back Sun Shield........................... $7 each

---
Basic Nest Box for Barn Owls satisfies all the requirements of the owl, but without the frills. Like the Tree Nest Box, our Basic Nest Box for Barn Owls is versitile and can be installed in a variety of ways: on a pole, a wall, or in a tree. Ventillation and drainage are provided for in the design. A hinged clean-out door facillitates annual maintenance. The box measures 19 inches high by 12 wide and 12 deep. This box comes without paint or preservatives.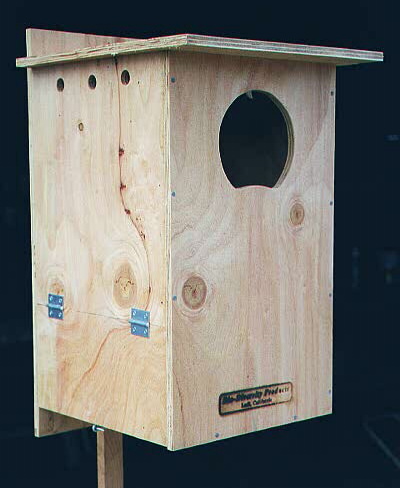 Price ....................................... $42 each.
---