a Bio-Diversity Products web site
Brown Bats
---
These voracious hunters eat their weight each night in flying insects. Much of their prey consists of mosquitos and moths, whose eggs produce crop damaging larvae.

We make two sizes of bat houses, and both meet recommended specifications. Both have chambers that are 24 inches tall and 11.25 wide. All panels, space 3/4 inches apart, are made from Western Pine that has been scored with horizontal cuts to insure the bats' traction. Both models are large enough to accomodate nursery colonies. No nylon screening is used. Exteriors are also made of pine, and all seams are glued and screwed together. The tops are caulked to prevent drafts. The boxes are attractively built, but have no paint or other preservatives applied.

Our large bat house, shown below, has six chambers. It is built to attract an entire colony. The overall mesurements of this box are 30 inches tall by 11 inches wide by 11 inches deep.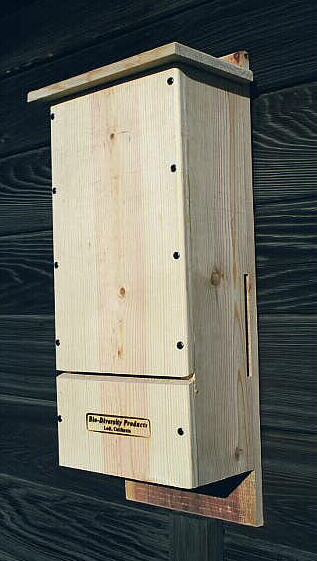 Price:
Large bat house ......................................$85 each
---
Our smaller house, below, has three chambers. Still, it will easily hold several hundred bats. Overall dimensions are 30 inches tall by 11 inches wide by 6.5 inches deep.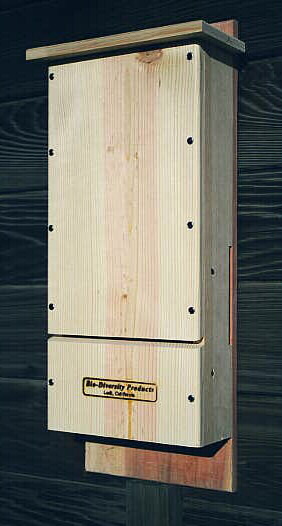 Price:
Small bat house ..............................................................$70 each
---