Sunday, May 9,2010
Noon to 5 PM
Concert, featuring Swing Shift, begins at 1:00 and concludes at 3:30.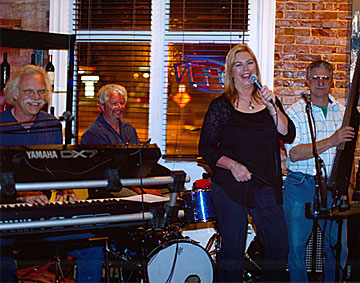 Swing Shift is a well known jazz group frequently performig in the Lodi area.
Jim, Jackie, Carl and Pieter will be playing from 1:00 to 3:30 PM. Relax at one of our many picnic tables as they entertain you with nostalgic old jazz standards such as "It Had to be You," "I've Got the World on a String," "Night and Day."
The concert is a free event.

Bring you own picnic or order a boxed lunch for only $15 and have it waiting for you when you arrive at the winery. Lunch includes a sandwich, salad, dessert and a glass of wine. Child's lunches are just $10 apiece.
Guests are invited to enjoy their meal at the winery or take the 3/4 mile walk to our private beach along the Mokelumne River. We apologize, but there is no transportation to the river this year. All those interested must walk up and back.
Wine will be available by the glass or by the bottle. Well behaved children are welcome, as are "people-friendly" dogs. Late arrivals may want to bring their own chairs as seating may be limited.