Raptor Perches
by Bio-Diversity Products
Most raptors hunt in flight. Perches can be used to increase the presence of these predators, influencing both bird and rodent control. This is particularly true during winter and early spring months when crops are not present or provide little ground cover, and in areas where natural perches have been removed.
Consider the following points when designing raptor perches.
The perch should stand fifteen to twenty feet tall. One method to achieve this height is to securely bolt together a twelve foot 2 x 4 to a sixteen foot pressure treated or redwood 4 x 4, over-lapping the two pieces by three or four feet (Figure 1 ).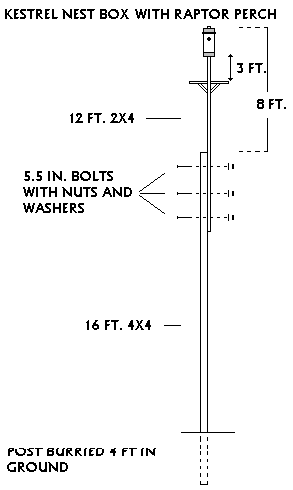 Figure 1.

A second method (right), utilizes 18 feet of galvanized 3/4 inch pipe set three feet in the ground and stabilized with concrete. The cross piece is attached with flange with 3/4 inch thread. (Figure 2)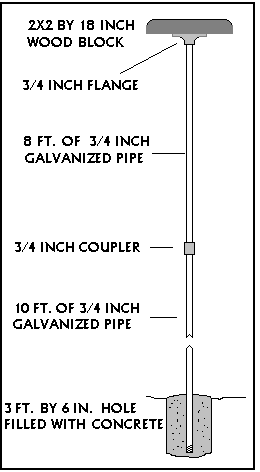 Figure 2.
Raptors show a preference toward perches that provide protection from attack from above and behind. The design in Figure 3 below achieves this by placing two cross pieces at least 3 feet apart. Attaching a kestrel nesting box three feet above the lower cross piece will substitute for the upper one, (shown in Fig. 1.) providing the birds with a sense of security as well as nesting space for these predators. Cross pieces should be fairly substantial in size. A minimum size would be 2 by 2 by 18 inches long. Two by fours, 18 to 24 inches long, are recommended. Strength and stability are important.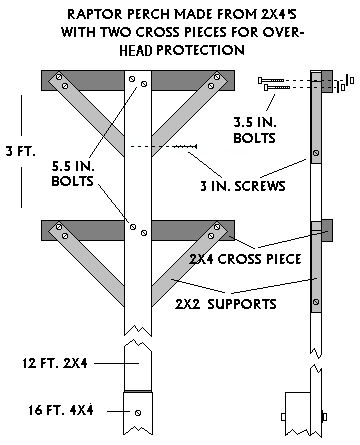 Figure 3.

Perches should be oriented so that the cross pieces point east and west. This provides optimum visibility for the perching birds with respect to early morning and late afternoon light.